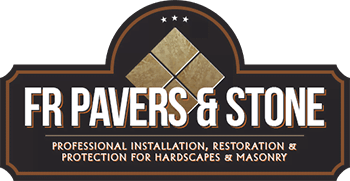 Experienced installers of Natural Stone,
Retaining Walls & Pavers
Professional Installation, Restoration & Protection for Hardscapes & Masonry
More About Us
Hardscape Contractor services in Palm Beach County / Broward County FL
At FR Pavers & Stone, it is our goal to provide you with a wide range of products to suit your every need. Our experienced staff is available to assist you in product selection and can help you with all aspects of your construction projects including paver driveways & patios, retaining walls, pool remodeling, fire pits and BBQ's.

We carry only the finest products and offer a wide variety of colors, styles, shapes and sizes. Masonry hardscaping products, landscaping materials, tools, aggregates and cement products are available, all at one location, for your convenience.

Our mission is to continually satisfy highest expectations for quality, service and integrity. It's a mission fulfilled through years of repeat business, and a commitment we proudly renew each day when we open our doors for business. Our services include the paver solar lights, travertine pavers, brick pavers, natural stone and hardscape restorations.

More About Us
Our Portfolio
With years of experience, FR Pavers & Stone has established itself as a reputable name in the Boca Raton, Florida, hardscaping market. Please get in touch with us right away if you are interested in our offerings. You can rely on us to produce hardscaping components for you that are both aesthetically beautiful and long-lasting, including a deck, patio, fire pit, driveway, and walkway. You can view examples of our many hardscaping projects on this page; our prior work speaks for itself. We have a sizable portfolio filled with gorgeous patios, fire pits, paths, roads, outdoor kitchens, and retaining walls that can transform any yard into an outdoor paradise. We systematically ensure you have the perfect outdoor space in the shortest time. We make a lot of effort to maintain affordable rates without sacrificing the standard of our products or services. We assist clients in creating functional outdoor spaces that raise the value of their homes by utilizing our creativity and expertise. What matters most to us is the same thing that always has: giving our customers a business advantage. When it comes to the things that matter most, our vision is clear. We're going to keep on delivering superiority in quality, productivity, operational efficiency, value and aesthetics.
We Provide Services to the Following Cities and Towns in FL
Customer service is our priority. Let us know how we can be of service to you! We will do everything we can to make your project run smoother.
Whether you are a contractor, architect or homeowner, we are delighted to assist you in every way.
Contact Us