Experienced installers of Natural Stone, Retaining Walls & Pavers
Professional Installation, Restoration & Protection for Hardscapes & Masonry
Read More
Stone Pavers in Highland Beach, FL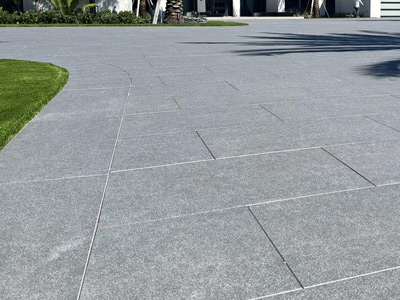 Stone pavers have become integral elements in Highland Beach, FL properties, seamlessly adorning both residential and commercial outdoor spaces. FR Pavers & Stone is a local company and we set the benchmark for high-grade stone paving services.

Our commitment to excellence is evident in our unmatched craftsmanship and dedication to superior quality. With a wealth of experience, we bring unparalleled expertise to every project, ensuring precision and finesse in every stone laid. Our team's proficiency, combined with a deep understanding of local needs, positions us as the foremost choice for premium stone paving services.


Range of Stone Paver Installations
We transform various outdoor spaces with our expert stone paver installations. Whether enhancing the elegance of residential driveways, creating inviting pathways in commercial landscapes, or crafting stylish patios, our services extend to:
Elevating the curb appeal and durability of residential driveways with our precision-installed stone pavers.
Creating lasting impressions in commercial properties with thoughtfully designed and expertly installed stone pathways and common areas.
Transforming outdoor living spaces into stylish retreats with aesthetically pleasing and functional stone paver patio installations.
Benefits of Our Stone Paver Installations
There are several benefits to installing stone pavers in outdoor spaces such as:
Our stone paver installations redefine outdoor aesthetics, infusing spaces with timeless charm and an array of design possibilities. Each project is a canvas for creativity, allowing clients to personalize their outdoor havens according to their unique tastes and preferences.
Our stone pavers surpass mere functionality, showcasing exceptional durability that stands resilient against the unpredictable elements of weather and the inevitable wear of time. Clients can trust that our installations will endure, providing enduring appeal to their outdoor spaces.
Enjoying the allure of our stone pavers is effortless, thanks to their low maintenance requirements. Beyond their visual appeal, these installations retain their charm over the years with minimal upkeep, providing a hassle-free outdoor experience.
We embrace versatility, offering a myriad of design and color options. This allows clients the freedom to customize their outdoor havens, ensuring that each space is a unique reflection of their style and preferences.
Our stone paver installations become a valuable investment by contributing to improved property value. Clients can be confident that their outdoor spaces are not only visually appealing but also financially rewarding.
These products feature slip-resistant surfaces ensuring that our installations are not just aesthetically pleasing but also ideal for various outdoor living applications, providing a secure and enjoyable environment.
Customized Stone Paving Services
We go beyond the ordinary, offering a tailored experience that begins with our commitment to high-grade materials. Every project is a canvas for creativity, allowing us to bring our clients' visions to life with precision and expertise. Our dedication to ensuring the best possible experience for our clients is unwavering, from the initial consultation to the final installation.

We understand that value extends beyond cost, and our clients can trust us to deliver not just aesthetically pleasing stone paver installations but also an investment that brings enduring quality, functionality, and distinctive elegance to their outdoor spaces. Our customized approach is a commitment to excellence that defines our approach to every stone paver installation project. Our creativity and skill are unsurpassed in the local space, and you can trust us to provide you with the stone paver services you need.

Our name is synonymous with distinction, delivering enduring elegance and transformative outdoor spaces that reflect our unwavering commitment to excellence. We handle all types of big and small stone paving projects for our clients, ensuring that every surface is perfect in every way.

If you want more information about our natural stone pavers in Highland Beach FL, call the experts at FR Pavers & Stone. You can reach us by filling out our Online Form or calling 561-289-0943.


We Provide Services to the Following Cities and Towns in FL