Experienced installers of Natural Stone, Retaining Walls & Pavers
Professional Installation, Restoration & Protection for Hardscapes & Masonry
Read More
Paver Repairs in Boca Raton, FL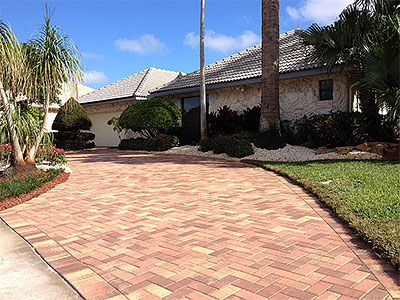 Pavers are hardy, attractive, and low-maintenance outdoor flooring installation options. However, even the toughest pavers can suffer from wear and tear, impact damage, or neglect, causing them to look old or become damaged over time. That's why we at FR Pavers & Stone provide high-quality paver repair services in Boca Raton, FL, to help keep your outdoor spaces looking their best.


Types of Pavers We Repair
We repair all pavers, including concrete, brick, and natural stone pavers. Our team of experienced technicians will assess the condition of your paved areas and provide objective information on the repairs required. We take pride in our attention to detail and quality workmanship, ensuring that every job is completed to industry standards.

We source similar paver stones to the existing ones, so the finished product looks seamless and like new. We work hard to ensure that the replacement pavers' color, texture, and finish match the existing ones, making the repair as seamless as possible.


Common Paver Repairs
The most common paver repairs we perform include:


Cracked Pavers - Cracks can occur due to impact damage, weathering, or soil movement. We will carefully remove the damaged paver and replace it with a new one, matching the color and texture of the existing ones.


Sunken Pavers - Sunken pavers can occur due to soil erosion, heavy traffic, or poor installation. We will carefully remove the sunken paver/s, re-level the base, and reinstall it, ensuring it is flush with the surrounding pavers.


Loose Pavers - Loose pavers can be a safety hazard and are typically caused by improper installation or soil movement. We will carefully remove the open paver, re-level the base, and reinstall it, ensuring it is secure and stable.


Stained Pavers - Stains can occur due to spills, oil leaks, or water damage. We will clean the pavers thoroughly using specialized equipment and techniques, restoring them to their original color and condition.


We provide superior paver repair services to help keep your outdoor living spaces looking their best. Our company uses only the highest quality materials for our paver repairs, ensuring that the finished product is durable, long-lasting, and attractive.


Commercial Paver Repairs
We recognize that commercial paver repair jobs are different from residential ones. That's why we take the time to personalize our service to meet each client's unique requirements. Our experienced technicians will work closely with you to understand your needs, budget, and timeline and provide tailored solutions that meet your needs.

We use the latest equipment and techniques, so every commercial paver repair job is completed to the highest standards, minimizing downtime and ensuring that your business operations continue uninterrupted.


High-Grade Paver Repairs
Whether you need to repair cracked, sunken, loose, or stained pavers, our experienced technicians have the skills and expertise to do the job right. We take pride in our customer service, ensuring every client is treated with respect, honesty, and professionalism. As mentioned, we work hard to complete every project on time, within budget, and to your satisfaction.

Our friendly and knowledgeable team members will happily discuss your needs and answer any questions. Call us for a free estimate and let us help you restore your outdoor spaces to their original beauty. We offer the best paver repair services at cost-effective pricing.

If you want more information about paver repairs in Boca Raton, FL, don't hesitate to get in touch with FR Pavers & Stone. You can reach us by filling out our Online Form or calling 561-289-0943. We aim to delight you with our services and provide you with the value you expect in any project we handle for you.

We Provide Services to the Following Cities and Towns in FL